Free M4A to MP3 Converter is our tool that you can try, in order to see what our products are like.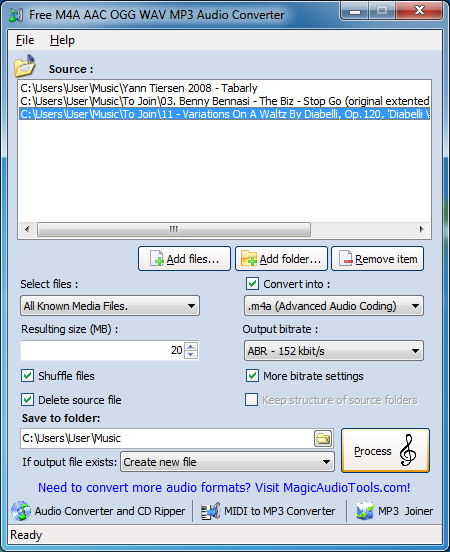 Free AAC, M4A, OGG, MP3 and WAV Audio Converter
Convert music between AAC, M4A, OGG, MP3 and WAV formats for free! Free M4A to MP3 Converter can accept any combination of AAC, M4A, OGG and WAV audio clips, and convert them into a format of your choice including AAC, M4A, MP3 and WAV. Covering five most popular audio formats, Free M4A to MP3 Converter will cover 80% of your audio conversion needs. If you need the other 20%, check out one of our feature-packed products such as
Magic Audio Converter and CD Ripper
supporting well over a dozen audio formats.
Convert Between AAC, M4A, OGG, MP3 and WAV Formats
Free M4A to MP3 Audio Converter supports a limited range of audio formats, but does that without charging you a dime. If AAC, M4A, OGG, MP3 and WAV are everything you need, here's your chance to pick up a great audio converter for absolutely free.
Consolidate Your Music Collection into a Single Format
Have a bunch of audio tracks downloaded in a bunch of different formats? Having your music collection scattered between the formats may not be the best idea. Duplicated tunes, varying bitrate and playback quality can easily ruin the listening experience. Besides, some players are better off with one format, while others are best with another.
Consolidate your entire music collection into a single audio format! Free M4A to MP3 Audio Converter accepts any number of AAC, M4A, OGG and WAV files as an input, producing AAC, M4A, MP3 or WAV files in the output. Its convenient drag-and-drop interface makes the conversion simple and easy. You can shuffle the files or keep the original folder structure, specifying your desired bitrate and sound quality. And if you have audio files in exotic formats to convert, have a look at our other tools!
The program offers the following features:
• Free to download (you get a free wav converter, a free m4a to mp3 converter and a fast aac to mp3 converter in a single package!)
• Intuitive and easy-to-use drag-and-drop interface
• Several audio input and output formats supported: aac, m4a, ogg and wav
• Several audio output formats supported, including: aac, m4a, mp3 or wav
• A possibility to shuffle audio files
• Custom bitrate
• Supports visual styles from Windows XP, Windows Vista, Windows 7
If seeking an ultra-fast audio conversion tool for the most popular audio files, make sure not to miss Free M4A to MP3 Audio Converter!
Requirements:
• Compatible with 32-bit and 64-bit Windows and requires Windows 2000 or newer