Magic Audio Joiner позволяет склеить, соединить и объединить музыкальные или аудио файлы в один единственный файл. При этом вы можете вставлять между ними отрезки тишины, как между треками на CD диске: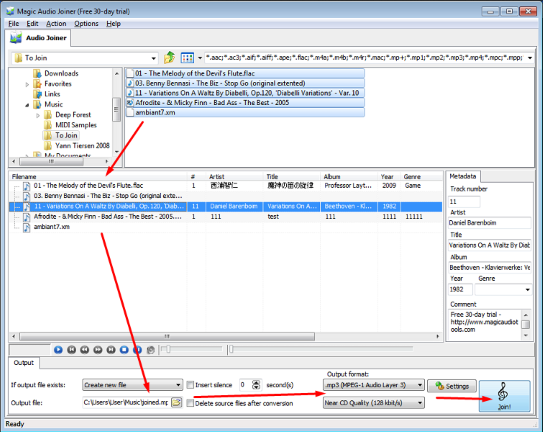 Magic Audio Joiner is a handy audio tool that enables you to merge multiple audio files into a single track. The program supports a wide range of audio formats both for input and output (including aac, ape, flac, m4a, m4b, mp3, mp4, ogg, wav and wma), so you can easily merge a series of FLAC files into a single MP3 file, for example. The output audio file will even have pauses between tracks serving as delimiters of merged fragments – just like regular CDs do!
You may want to merge audio files for a number of reasons. For example, you may need this mp3 joiner, ogg joiner, wma joiner, wav joiner for creating a single "supertrack" from all album tracks or a compilation or fragments from a voice recorder. Or you could compile a single portfolio file from your collection of tracks. No matter what your reasons are, Magic Audio Joiner will be just the right tool for the job.
Using the program is extremely easy and you don't need to be a digital sound expert to join wma files, for example. Just drag and drop the files you want to merge into the program window, specify the length of the pause between the tracks and configure a couple of additional parameters, such as the output file format and audio tags. Once done, you are good to go – the program will automatically compile the tracks into the output file. The duration of this process will only depend on the speed of your CPU and the size of the audio fragments being merged. The program interface has been localized in 12 languages and is 100% compatible with visual themes in Windows XP, Windows Vista and the latest Windows 7.
Note that this mp3 joiner can process files in the batch mode. To save time, configure the merge parameters in advance and start the process - Magic Audio Joiner will take care of the rest! For your convenience, this mp3 joiner program features a built-in audio player supporting the formats the program works with, so you can listen to separate fragments and the resulting file directly from the program. If you also like order and always fill out audio tags for faster searches and better organization of your audio collection, you will appreciate the functionality of the built-in tag editor this wav joiner has.
If you've been searching for a small and fast mp3 joiner, wma joiner, ogg joiner or any other audio merging tool that is a snap to use, try Magic Audio Joiner. You make the sound, it works its magic!
Features:
• Intuitive 'drag-and-drop' user interface for joining of audio files
• Join files in batch mode
• Wide variety of audio formats supported, including mp3, mp4, wma, wav, flac, aac, m4a, ogg, aac, ac3, aiff, ape, cue, mp+, mp1, mp2, mpc, mpp, ofr, 3gp, 3g2, ofs, spx, tta, wav, wma, wv, alac.
• Built-in audio player
• Built-in tag editor
• Options to insert timed gaps between tracks
• Multilingual user interface available in 12 languages
• Allows to save all the converted files into one large file
• MOD Music support(xm,it,s3m,mod,mtm,umx)
• Support Apple Lossless Audio codec (ALAC)
• Объединяет треки без промежутков
• Supports visual styles from Windows XP, Windows Vista, Windows 7
Requirements:
• Compatible with 32-bit and 64-bit Windows and requires Windows 2000 or newer
To start the conversion process, the user selects the appropriate audio tracks using the simple drag-and-drop interface. He or she then specifies the desired length of the blank audio gaps between tracks, as well as any additional customisable options, such as output format and tags, and then allows the program to automatically create the final desired product.