Magic Audio Joiner - merge any audio files into a single file in few clicks!
Customizable pauses with gapless playback option let you produce a perfect mix: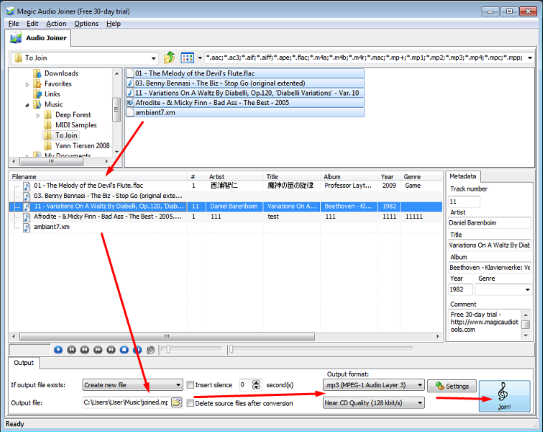 Join Individual Tracks into a Single File
Join multiple audio files into a single track! Magic Audio Joiner can join a bunch of files in a wide range of formats, producing a single track in a format of your choice. You can join a bunch of AAC, APE, Apple Lossless (ALAC), FLAC, M4A, M4B, MP3, MP4, OGG, WAV and WMA files together into a single file no matter how many files in how many formats you have, and how big or how small each file is. Effectively, you can merge a series of FLAC files into a single MP3 file, just to give an example.
Custom Pause between Tracks with Gapless Playback Option
The joined audio file can have pauses between tracks serving as delimiters of merged fragments – just like regular CDs do. Alternatively, you can opt for gapless tracks for continuous uninterrupted playback. When joining audio files, you can insert a few seconds of silence between the tracks, or produce a gapless audio track for uninterrupted playback.
Why Joining Audio Tracks?
You may want to merge audio files for a number of reasons. For example, you may want a single "supertrack", or a compilation or scattered fragments from a voice recorder. Situations where a single audio file is more usable than many small ones are extremely common.
Convert Codecs and Audio Formats
While joining audio files, Audio Joiner performs format and codec conversion on the fly. It is easy to join a bunch of downloaded music files together even if they are only available in exotic, rare formats.
Batch Operation
You can join just the files selected, or launch Audio Joiner in the batch mode to merge entire folders with files. You can pre-configure the tool with all the parameters, then launch the conversion and let it do the rest.
Built-in Tag Editor and Media Player
With Audio Joiner, you can add text information to the merged track with the use of built-in tag editor. Specify artist, album and song information in just a few clicks. The built-in media player can play back all individual audio files and the resulting joint file.
Features:
• Joins multiple files in different formats and codecs
• Optional batch mode
• Intuitive drag-and-drop user interface
• Joins any combination of MP3, MP4, WMA, WAV, FLAC, AAC, M4A, OGG, AAC, AC3, ALAC, AIFF, APE, CUE, MP+, MP1, MP2, MPC, MPP, OFR, 3GP, 3G2, OFS, SPX, TTA, WAV, WMA, WV, and ALAC files together
• Supports MOD Music (xm, it, s3m, mod, mtm, umx)
• Supports Apple Lossless Audio codec (ALAC)
• Built-in audio player and tag editor
• Custom gaps between tracks with uninterrupted 'gapless playback' option
• User interface available in 12 languages

System Requirements:
• Windows 2000 or newer (up to Windows 7)
• Compatible with 32-bit and 64-bit versions of Windows
• Supports visual styles for Windows XP, Vista, and Windows 7
• Mp3 joiner, wav joiner, wma joiner, ogg joiner, ac3 joiner, aac joiner, aiff joiner, ape joiner, flac joiner, m4a joiner, m4b joiner, m4r joiner, mp1 joiner, mp2 joiner, mp4 joiner, mpc joiner, spx joiner, tta joiner, wv joiner, 3gp joiner, 3g2 joiner in one.

Tags
audiojoiner | free audio joiner | batch audio joiner | audio batch joiner | free batch audio joiner | audio joiner batch | audio joiner free | online audio joiner | freeware audio joiner | audio joiner freeware | free audio joiner online | free audio joiner download | free download audio joiner | audio joiner online | join audio online | audio joiner online free | online audio joiner free | audio joiner mp3 online