Convert your MIDI files into high-quality MP3, WAV, WMA or any other formats while choosing your favorite sound font and adding reverb/chorus effects to your liking: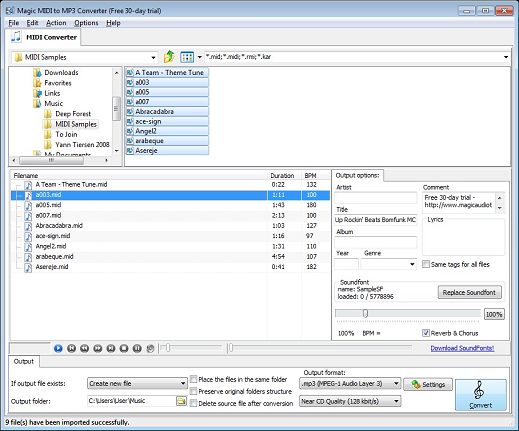 Convert MIDI to MP3, AIFF, WAV, or other Waveform Audio Formats
Breathe new life into your old MIDI collection! This program will help you to transcode your MIDI's into one of the many popular formats including MP3, WMA, WAV, AAC, or even the lossless FLAC. Supporting all types of MIDI files, the tool can convert RMI, KAR and MIDI files to a variety of waveform formats with just a couple of mouse clicks. The built-in tag editor allows specifying text for artist, song and album information.
Different Sound with Custom Sound Fonts and Effects
Make your music sound different! Application support selectable sound fonts, allowing you specify your own wavetables for various instruments in the industry-standard SoundFont format. In addition, you can add adjustable reverb and echo effects to produce the best sounding tracks.
Instant Effect Preview with Built-in Media Player
The built-in media player allows instantly applying sound effects while play back the result immediately, allowing you to preview the resulting audio without saving, opening and playing files in an external player.
Use MIDI Ringtones in Modern Phones
Old phones used polyphonic MIDI files as the only ringtone format. Today, this format is getting abandoned, with many phones no longer supporting such ringtones while switching exclusively to MP3 format. Our converter will help you convert your old ringtones into MP3 ringtones.
Make Your MIDI's Sound Like a Symphony Orchestra
This Ringtone Converter is an easy solution to help you use your old MID songs and ringtones in new mobile phones and smartphones. Your old MIDIs never sounded that good! Instead of using the simplistic and unconvincing FM synthesizer used in older phones and inexpensive sound cards, the program has access to all the computational resources of modern PCs to employ sophisticated sample-based synthesis using pre-recorded sounds of real music instruments to play .KAR or .RMI files, making your ringtones sound just like a real recording. Thanks to the SoundFont support, the program can produce media files that sound completely differently with different wave samples used.

Configurable Output Options
Converter allows specifying custom conversion parameters to control the quality and size of the output. Whether you just want a bunch of small-size MP3s to upload as your phone's ringtones or want the highest-quality classic music to be stored in the lossless format, our tool has options for you.
Batch MIDI to MP3 Conversion
Software supports fully automated batch conversion mode, allowing you to convert a bunch of MIDIs into a format of your choice in just a few clicks.
The key features:
• Highest quality conversion based on sound sample synthesis
• SoundFont support with customizable reverb and chorus effects
• Intuitive drag-and-drop user interface
• Batch mode and built-in tag editor
• Accepts .mid, .midi, .rmi and .kar files
• Outputs in AAC, AIFF, MP4, WAV, WMA and other popular sound formats
• Built-in media player offers instant preview of applied sound effects and soundfonts
• Options to preserve folder structure
• User interface available in 12 languages
System Requirements
Minimum:
• Microsoft Windows XP (32-bit and 64-bit)
• 1.0 GHz or faster processor
• 512 MB RAM
• 10 MB free hard drive space
Recommended:
• Microsoft Windows XP/Vista/7/8/8.1/10 (32-bit and 64-bit)
• Pentium 4 or faster multi-core processor
• 1 GB RAM
• 10 MB free hard drive space

MIDI to MP3 Converter allows to convert mid to mp3, mid to wav, mid to aac, mid to m4a, mid to m4b, mid to mp2, mid to aiff, mid to m4r, mid to mp4, mid to wma, mid to ogg, mid to flac, mid to mpc, mid to ape, kar to mp3, kar to wav, kar to aac, kar to m4a, kar to m4b, kar to mp2, kar to aiff, kar to m4r, kar to mp4, kar to wma, kar to ogg, kar to flac, kar to mpc, kar to ape.

F.A.Q.:
What is MIDI?
MIDI stands for Musical Instrument Digital Interface (Musical Instrument Digital Interface). This is a standard serial communication protocol that allows computers, synthesizers, sequencers, controllers and other electronic musical devices to communicate and share information to generate sounds. This information defines various data types such as numbers may correspond to particular notes, numbers synthesizer patches or driver settings. Because of this simplicity, the data can be interpreted in various ways and used for purposes of music. The protocol includes additional hardware and software specifications.
What is MP3?
MPEG-1 or MPEG-2 Audio Layer III, more commonly referred to as MP3, is an audio coding format for digital audio which uses a form of lossy data compression. Its lossy algorithm was developed in 1991. It is a common audio format for consumer audio streaming or storage, as well as a de facto standard of digital audio compression for the transfer and playback of music on most digital audio players. MPEG-2 Audio Layer III is an audio-specific format that was designed by the Moving Picture Experts Group (MPEG) as part of its MPEG-1 standard and later extended in the MPEG-2 standard. It is a method to store good quality audio into small files by using psychoacoustics in order to get rid of the data from the audio that most of the humans can't hear.