How to convert MIDI to MP3 with the best MIDI2MP3 Converter?
To start, double-click the Magic MIDI to MP3 Converter shortcut on the Desktop.

Or you can go to the Start menu and click Magic MIDI to MP3 Converter.

At the upper left, navigate to the location where you have the MIDI files that you want to convert. In this example, there is a MIDI folder in the Music library, and these are the files I want to convert.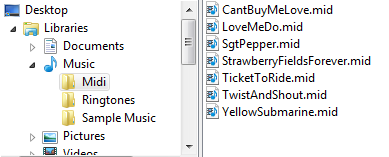 Select the MIDI files and drag them to the middle window.

Now, you can enter specific output options for the midi files. Select a file name and then on the right hand side, specify the artist name, title, album, year, genre, soundfont and other options.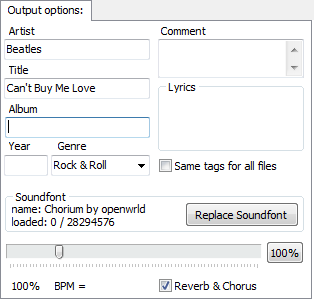 You can use the music player controls in the middle of the window if you want to hear each MIDI track. This can be handy if you have MIDI files without identifying names, and you want to know what tunes they actually are.

Next, in the Output area at the bottom of the window, you can set things like what the MIDI converter should do if the output file already exists, where to put the output, if you want to preserve the folder structure and whether to delete the source files.

In this example we are converting midi files to mp3 format, so select .mp3 (MPEG-1 Audio Layer 3) in the Output format dropdown.

Don't forget to click the Settings button, where you will find more options for the mode, quality, sample rate, bit rate, filtering and highpass settings. After selecting all of the Output options, you are ready to start the conversion process.
Click

.
MIDI2MP3 Converter displays the progress of the MIDI to MP3 conversion: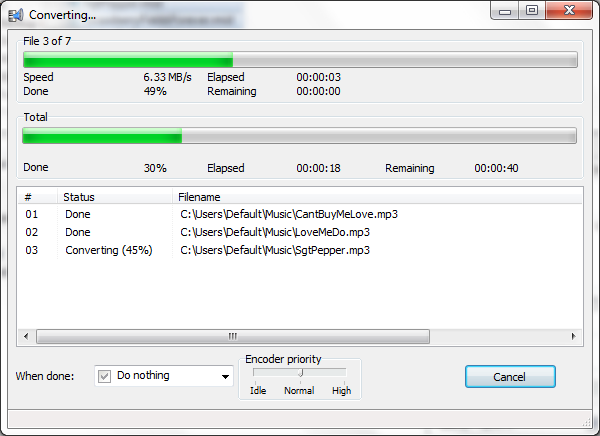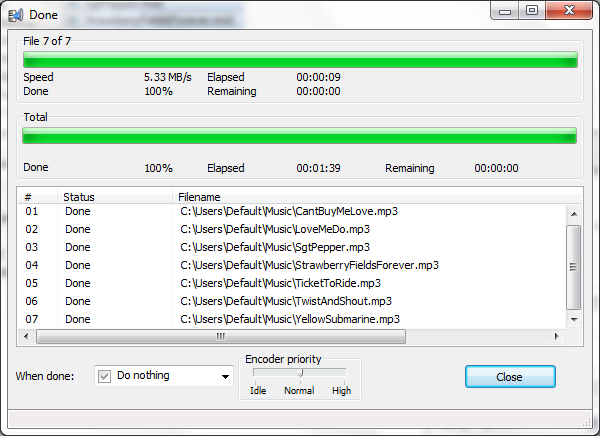 You can tell the program what to do when the MIDI conversion is finished. Select a value in the When done dropdown box. For example, you might want to have the computer go into hibernation when it's done converting the files.

To go back to the main program, click Close on the progress window and then it takes you back to the Magic MIDI to MP3 Converter.

Magic Convert MIDI to MP3 System Requirements
Minimum:
• Microsoft Windows XP/Windows Vista/Windows 7/Windows 8/Windows 8.1/Windows 10 (32-bit and 64-bit)
• 1.0 GHz or faster processor
• 512 MB RAM
• 10 MB free hard drive space
Recommended:
• Microsoft Windows XP/Windows Vista/Windows 7/Windows 8/Windows 8.1/Windows 10 (32-bit and 64-bit)
• Pentium 4 or faster multi-core processor
• 1 GB RAM
• 10 MB free hard drive space
F.A.Q.:
What is midi?
MIDI stands for Musical Instrument Digital Interface (Musical Instrument Digital Interface). This is a standard serial communication protocol that allows computers, synthesizers, sequencers, controllers and other electronic musical devices to communicate and share information to generate sounds. This information defines various data types such as numbers may correspond to particular notes, numbers synthesizer patches or driver settings. Because of this simplicity, the data can be interpreted in various ways and used for purposes of music. The protocol includes additional hardware and software specifications.
What is MP3?
MPEG-1 or MPEG-2 Audio Layer III, more commonly referred to as MP3, is an audio coding format for digital audio which uses a form of lossy data compression. Its lossy algorithm was developed in 1991. It is a common audio format for consumer audio streaming or storage, as well as a de facto standard of digital audio compression for the transfer and playback of music on most digital audio players. MP3 is an audio-specific format that was designed by the Moving Picture Experts Group (MPEG) as part of its MPEG-1 standard and later extended in the MPEG-2 standard. It is a method to store good quality audio into small files by using psychoacoustics in order to get rid of the data from the audio that most of the humans can't hear. MP3's bitrates vary from 8kbps to 320kbps. A typical MP3 file encoded at 128kbps is near CD quality. MP3 audio is increasingly being used in video production coupled with various MPEG4 video codecs like divx. Almost every hardware or software player available can handle MP3 files. So, if you want to enjoy your favorite music anytime and everywhere you should use the files with MP3 file extension.